Our work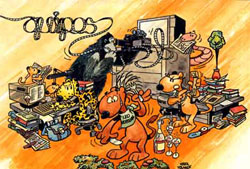 From the core business of those first few years, in which our clients were all newspaper and book publishers, as the market changed and our expertise grew, we expanded into a wide range of sectors, including merchandising, promotions, advertising, television, multimedia, telephone apps and the web.
In addition to our traditional activities as representatives of illustrators and cartoonists (now mostly of Italian origin) for any type of commercial application of their work and the protection of their rights in all sectors, we also organize and coordinate graphic, graphic-literary and audio-visual works.
In the past few years we have developed publishing "packages" and expanded into the promotion and production of animated cartoons.