Editorial Projects: Literary Agendas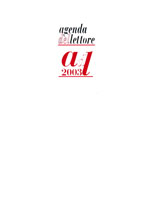 In 2000, Quipos created a yearly agenda focused on literary issues and books in general. It is illustrated with caricatures of writers past and present. The contents include information on literary awards, sector trade fairs and shows and publishing topics, as well as a series of notes on the significant dates in the life and works of a particular author. The project is branded with a logo comprised of the letters AdL (Agenda del Lettore) (The reader's agenda), a registered trademark.
Quipos intends to cede licensing rights to publishers in various countries and different languages for editions of the agenda that may vary in order to better meet local market needs.
An initial license, exclusive for Castilian Spanish, had been issued to the Granica publishing house (Barcelona, Mexico City, Buenos Aires), which had published the 2001 edition of the Agenda del Lector, together with a Calendario del Lector, an adaptation of the basic model using the same caricatures.