Famous characters: Giulio Coniglio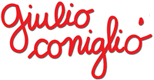 GIULIO CONIGLIO, by Nicoletta Costa, is a shy and generous bunny with long furry ears and a passion for carrots. He made his debut in 2001 and quickly won the hearts of a very young audience, toddlers from 2 to 7 years old.
Together with his merry group of friends, including Tommaso the rat, Caterina the goose, Laura the snail and a host of other characters, GIULIO CONIGLIO has simple yet unforgettable adventures that mirror those of young children.
The GIULIO CONIGLIO monthly magazine, chock full of stories, games, drawings and nursery rhymes, has been issued regularly since 2006 and is available at newsstands and by subscription and is published by Franco Cosimo Panini.
In addition, the Panini publisher's catalogue contains over seventy Giulio Coniglio titles for bookshops, ranging from thick cardboard books and fabric books for the very young to coloring books and stories to read and listen to, with audio CDs included.
In Italy, GIULIO CONIGLIO licensed merchandise includes stationery items and school supplies, children's interior décor items, etc.